MAY 2019
Happy Spring!
I am back from touring in Vietnam and Europe with Canada's Great Kitchen Party, an organization that I am proud to have been a part of for the last decade, helping support Canada's elite athletes (B2ten), Musicounts and Community Food Centres Canada.
Now it's time to make music closer to home, plant some seeds and celebrate longer days, birdsong and blossoms. Shows in Toronto, Waterloo, TD Jazz Fest and Mariposa. In between these gigs I have a bunch of shows with the Jim Cuddy Band. You can find all of those dates at jimcuddy.com. Our new CD - Countrywide Soul - came out today! It was made last fall up at Jim's farm and is a true representation and celebration of a group of fine Canadian musicians that have toured, recorded, lived, laughed and loved together for the last 21 years. Check out the video for the new single "Back Here Again" and our performance on CBC's Q this morning.
Hope to see you soon!
Anne
---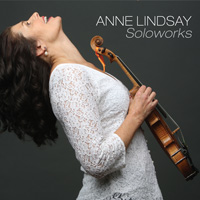 Anne Lindsay
Music takes me far and wide, from north of the Arctic Circle to the Cape of Good Hope, through India, Europe, Central America and back and forth across Canada, this amazingly big, beautiful country of ours. My violin is always there with me. We play, dance and sing together through grief, loss, laughter, joy and wonder. Along the way these tunes were born - thirteen pieces to be played by one player. SOLOWORKS is the offspring of my journeys, self discovery and the comfort found in being alone, that being solo works.
More about the record | Order Soloworks