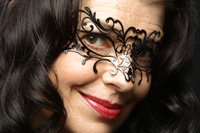 Soloworks was triggered by life - or, in this case, the deaths of her father, and her musical soul-mate, Oliver Schroer, the loss of which thrust the former Stewed Tomato into music all the more. A subsequent tour of Italy led her to the tiny, medieval hamlet of San Felice, where she would practice in an old chapel, growing increasingly intoxicated by the building's acoustics. This grew into a series of acclaimed solo shows, and the genesis of Soloworks.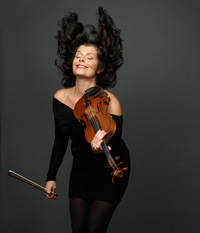 A visit to Scandinavia following her work in a musical production of the Lord of the Rings found her digging deep into Nordic culture and the fiddle styles which had once moved Schroer. Together, these experiences formed the backdrop for this intensely personal collection of 13 tracks featuring Anne's violin, nyckelharpa, vocals - and one piece for cello, played by Amy Laing.

Chapel-tested in Tuscany before they were painstakingly recorded in the rich acoustics of Toronto's Timothy Eaton Church, these compositions cut to the heart and bone of human emotion. It is life experience from all corners that fuels Anne -- from the exuberance of the Majengo Children's Home choir leading off "The Dusting Rag" , to the rapturous "Seas Will Rise", written in and inspired by South Africa in celebration of the human spirit.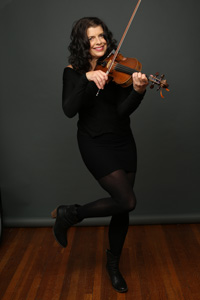 "Pilgrimage to Pushkar" and "Dogs in the Hollow' were written in India, an homage to Anne's studies of Indian classical music with virtuoso Trichy Sankaran. Anne's Arctic sojourns to Canada's Nunavut and Finland's Akaslompolo, give us "The Cold Told A Tale", a testament to the tenacity of peoples in the far north,, lyrically referencing the Nordic epic, The Kalevala. Clearly, music transcends all borders.

Anne,s boundary-hopping ways also reveal themselves in her insatiable interest in music of any stripe - jazz, rock, country, celtic, classical and klezmer. Indeed, the act of playing all music, of deriving joy and fun from having danced this dance around the world is what Soloworks is all about - a major artistic accomplishment, and a personal triumph.

Song Descriptions

1. Seas Will Rise (4:20) - written in, and inspired by, South Africa in celebration of the indomitable human spirit. Lyrically, it references the threat of global warming, yet remains buoyant and uplifting.
2. Pilgrimage to Pushkar (5:27) - gypsy spirit meets classical intrigue, as the vitality of Indian culture bends to the influence of Hollywood. Written in India overlooking the Lake Palace Hotel where James Bond's Octopussy was filmed.
3. Roro/Swedish Seven (5:43) -a tribute to friend and mentor Oliver Schroer; two of his compositions played on Swedish nyckelharpa (key harp) with a backdrop of Swainson's thrushes recorded in Clayoquot Sound.
4. Tour En L'Air (3:58) - written for cellist Amy Laing while on tour across Canada with Blue Rodeo - tons of fun!
5. You Really Got A Hold On Me (2:58) - the resonant tone of solo violin lends tension and depth to the reinvention of this much-loved Smokey Robinson classic.
6. The Dusting Rag (2:11) - this playful, upbeat fiddle tune opens with the voices of Majengo Children's Home (a Tanzanian orphanage where Anne volunteers); dedicated to the Dusting family in Vancouver.
7. The Cold Told a Tale (4:10) - with lyrical references from the poetry of The Kalevala, Nordic myths come to life against a bleak winter landscape while underlining the warmth of the tenacious peoples of the far north.
8. Dogs in the Hollow (3:39) - if you listen closely you can hear them! A zesty fiddle tune that morphs into an eastern shredder -frolics on all fours.
9. The Spy Czar / Jokijenkka (4:08) - Anne learned the first tune from Irish-American fiddler Liz Carroll herself and combined it with a favourite Nordic fiddle tune that bursts with the unbridled joy of playing.
10. The Three Bears (3:19) - an original nyckelharpa tune, written for Anne's nephew's nuptials.
11. Sing Hallelujah (3:50) - a eulogy for the dearly departed and a moment of appreciation of our temporal existence.
12. Acacia Blossoms as Snow in Spring (5:04) - the first piece Anne composed for solo violin. Inspired by the delicate beauty of Tuscan acacia blossoms strewn across fields like a dusting of snow after a fierce wind.
13. Amazing Grace (4:41) - much of this CD was recorded at Timothy Eaton Memorial Church in Toronto, where Anne sang in the junior choir. The sparse, piano-based arrangement comes from having first sung this hymn at her uncle's funeral. The funeral bells were recorded in Crillon Le Brave, France.